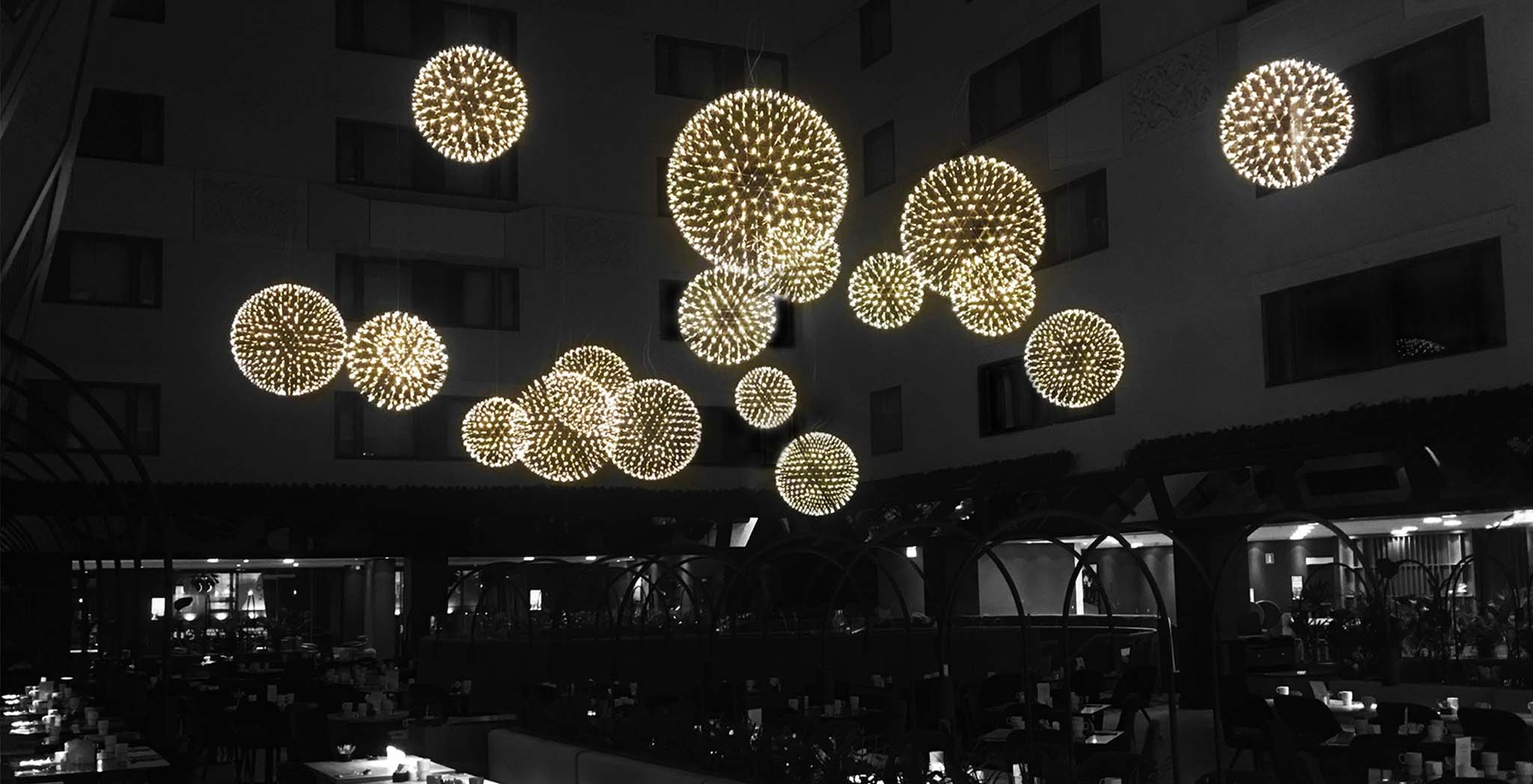 Radisson Blu Royal Viking Hotel
Project Location: Radisson Blu Royal Viking Hotel, Stockholm, Sweden
The Internet of Things (IoT) and the emergence of intelligent buildings is allowing low-voltage building systems such as intelligent lighting, voice, data, security, AV and HVAC to communicate with each other via Internet Protocol (IP) over a converged ICT infrastructure. This concept of network convergence provides significant cost savings and sustainability over the life of a facility, while improving overall user experience, well-being and productivity.
Intelligent Lighting has been at the forefront of this change and the benefits that smart lighting technology brings to building operators and owners are enormous. For the prestigious Radisson Blu Royal Viking Hotel in the heart of Stockholm, a new smart lighting installation meant an estimated 89% in annual lighting energy savings and more than 100,000 Euro savings in lighting maintenance costs. Cutting edge lighting solutions from Integrated System Technologies (IST) have made this reduction in the hotels carbon footprint possible.
Headquartered in Lichfield UK, digital lighting and IoT experts IST has been delivering large scale global lighting and control solutions for over 23 years. The company's solutions portfolio comprises of iDrive®, a centralised LED driver concept that reduces maintenance and commissioning costs, Serenity Lighting™ bespoke LED luminaires, lamps and iMune®, an integrated control solution that provides advanced building analytics, security and scalability to thousands of devices. Having been introduced to Radisson through an energy consultant and later awarded the project, IST was tasked to replace traditional halogen lights across the hotel lobby, restaurant, bar and the breakfast area and installed approximately 500 LED luminaires into bespoke architectural lamps. Changing from halogen and fluorescent to LED lighting resulted in tremendous energy savings of 68%, but that's just the beginning.
IST also implemented their smart power system iDrive® that drives multiple LED fixtures from three central points. This allows drivers to be installed remotely from the LED luminaires at ground-level in easy to access areas. For Radisson this meant that the lobby, restaurant, bar and the breakfast areas can now be controlled individually. With IST's smart control system, Radisson was able to reduce energy consumption down further to an estimated combined total of 89%. According to IST, the LED fixtures don't show typical maintenance failures that clients experience with halogen, fluorescent and 230 volt LED lamps. Before the smart lighting installation began, Radisson would spend approximately 100,000 Euros per year on replacing light fittings, lamps, tubes and recommissioning failed DALI drivers.
Both, LED luminaires and the control system connect to an IP-based network that relies on high performance Cat6A structured cabling from global network infrastructure specialists, Siemon. The cabling enables communication and information exchange between all systems and devices connected to the network. At the same time, it delivers SELV low voltage power to all luminaires, lamps and emergency lighting fixtures.
Reflecting on the successful installation, Miguel Colomo Perez, International Project Manager Architecture & Interior Design EMEA at Radisson, concludes: "IST's lighting solution combined with their willingness to accept additions and changes to the program of works led to a first-class lighting installation at our hotel".