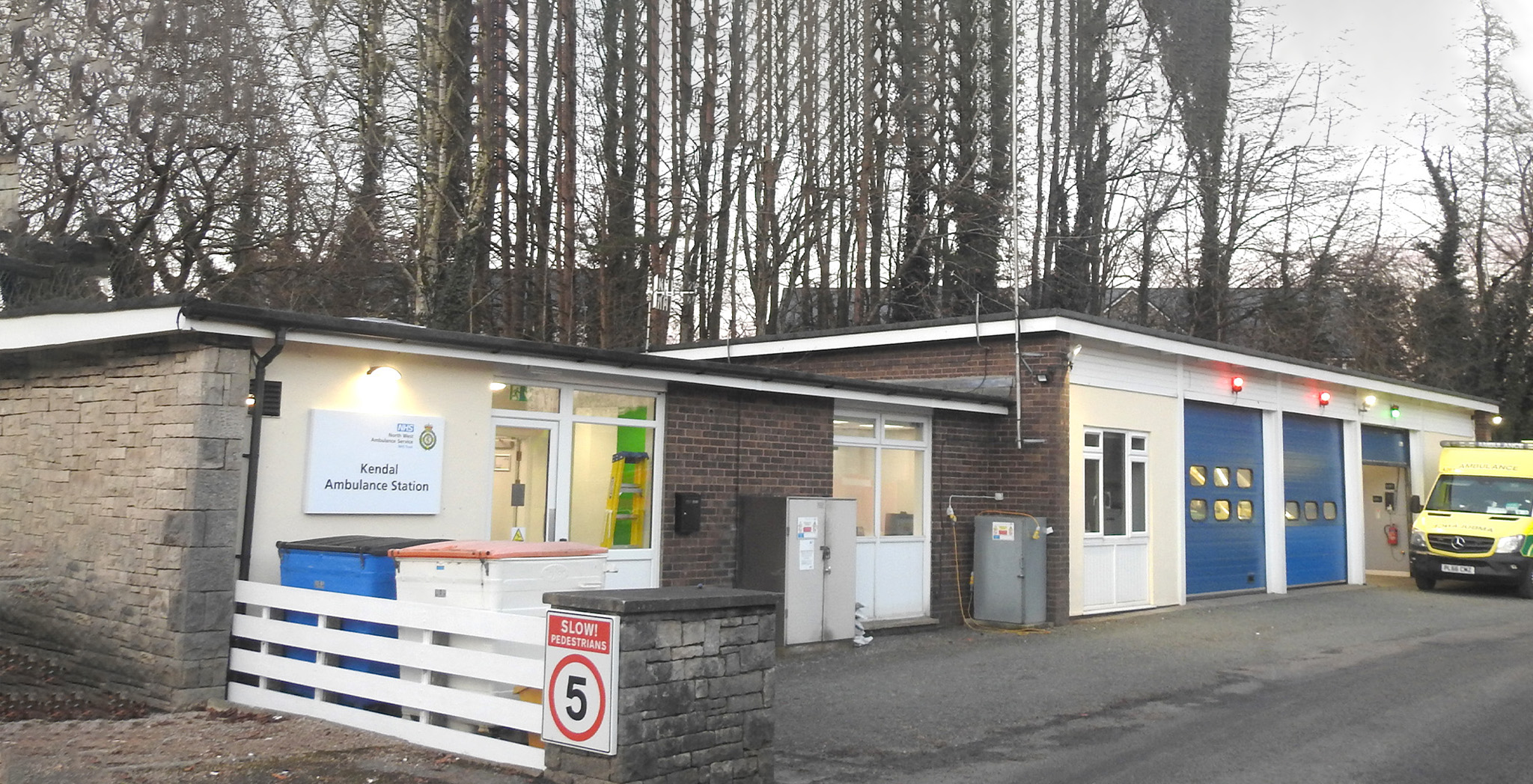 NHS NWAS Ambulance Station
Project Location: Kendal NWAS Station, Kendal, United Kingdom
The North West Ambulance Station aimed to be the UK's first intelligent IoT enabled digital station, and wanted to create a connected, efficient and digitalised facility.
NWAS first recognised IST for our healthy, flicker-free lighting solutions and wanted our help to replace and upgrade their old fluorescent lights, which could have been detrimental to staff wellbeing.
IST provided colour tuneable Circadian LED lighting used throughout. Over 83 high-efficiency luminaires were used in total, including panel and circular LED lights in the locker room, LED luminaires for intelligent racking location services, LED IP66 strip lights in the ambulance bays, and LED luminaires for all other areas such as in the staff rest areas.
IST's iDrive Force 12 Hybrid+ Silent LED ceiling based drivers were retrofitted at the NWAS station. A mains powered fluorescent ballast lifetime is expected to have 10 failures within a 5-year period. In comparison, IST's iDrive® Force 12 guarantees efficiency with an estimate of only 1 driver PSU failure every 5-years.
The ambulance bays were fitted with bay occupancy monitoring. Each bay is equipped with an external traffic light unit to indicate if the bay is occupied (red) or unoccupied (green). Each bay internally has a parking sensor based on reliable technology which indicated to the system if the bay is occupied in real-time. The IST iMune® BMS cluster ties all of this information together, so that it is easy to access.
Using smart occupancy and light level controls meant that NWAS achieved a >70% reduction in energy usage, as LEDs offer finer control options in comparison to fluorescent lighting. IST integrated numerous IoT sensors and additional energy saving methods by transforming the station using PIR, bin, temperature and parking sensors, as well as boiler, fan and blind controls. In total, 21 occupancy, ambient light and temperature sensors were used. IST installed these on-site and used PoE, EnOcean IoT gateways and LoRaWAN gateways for sensors and control network PoE tablets were also provided for local controls and monitoring.
NWAS also adopted IST's PoE emergency lighting solution, in consideration of occupant safety. 4x PoE emergency lighting PODS can illuminate up to 32 exit signs and emergency lights at one time, with full self-test functionality. The ambulance station required 25 emergency luminaires in total, which were distributed across the site. Our installation team helped NWAS to become the first smart ambulance station in the UK. The station managed to achieve significant carbon and energy reduction, with a >90% improvement in efficiency and a lighting energy and carbon foot print saving >70%. NWAS also managed to save over £2,000 in landfill and FM costs by investing in quality products and were delighted with the final result.
Bespoke iMune® Interfaces for NWAS
iMune® incorporates a responsive web enabled platform, utilising the very latest web sockets technology to allow real-time updates within standard HTML websites without the need for users to constantly page refresh. The iMune™ responsive web solution is ideal for control systems and allows IST to create bespoke, device agnostic graphical user interfaces for any and every application.
Bay Occupancy Monitoring
The ambulance bay occupancy monitoring shows the current vehicle occupancy status of the parking spots within the garage, which are updated in real-time. This is shown on the lights above the bay on the outside of the building, which will be green if the space is unoccupied, or red if occupied.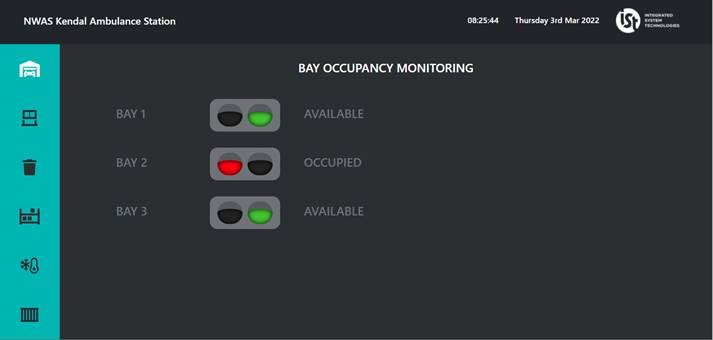 Bin Levels
Bin level sensors show the current levels of waste within the various major bins around the facility. This allows waste collection to be more effectively organised, rather than a delegated staff member having to manually check when to empty the bins, which saves time and manages waste.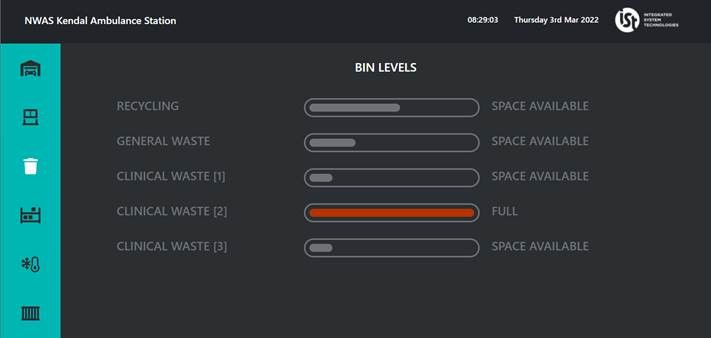 Heating Controls
Heating controls allow zone target temperatures to be set for the facilities heating requirements, as well as manual override for the heating as well. The staff can see the current temperature in each zone. Previously, staff didn't have any control over the heating, so it would either be constantly on or off which impacts costs, carbon footprint and energy usage.