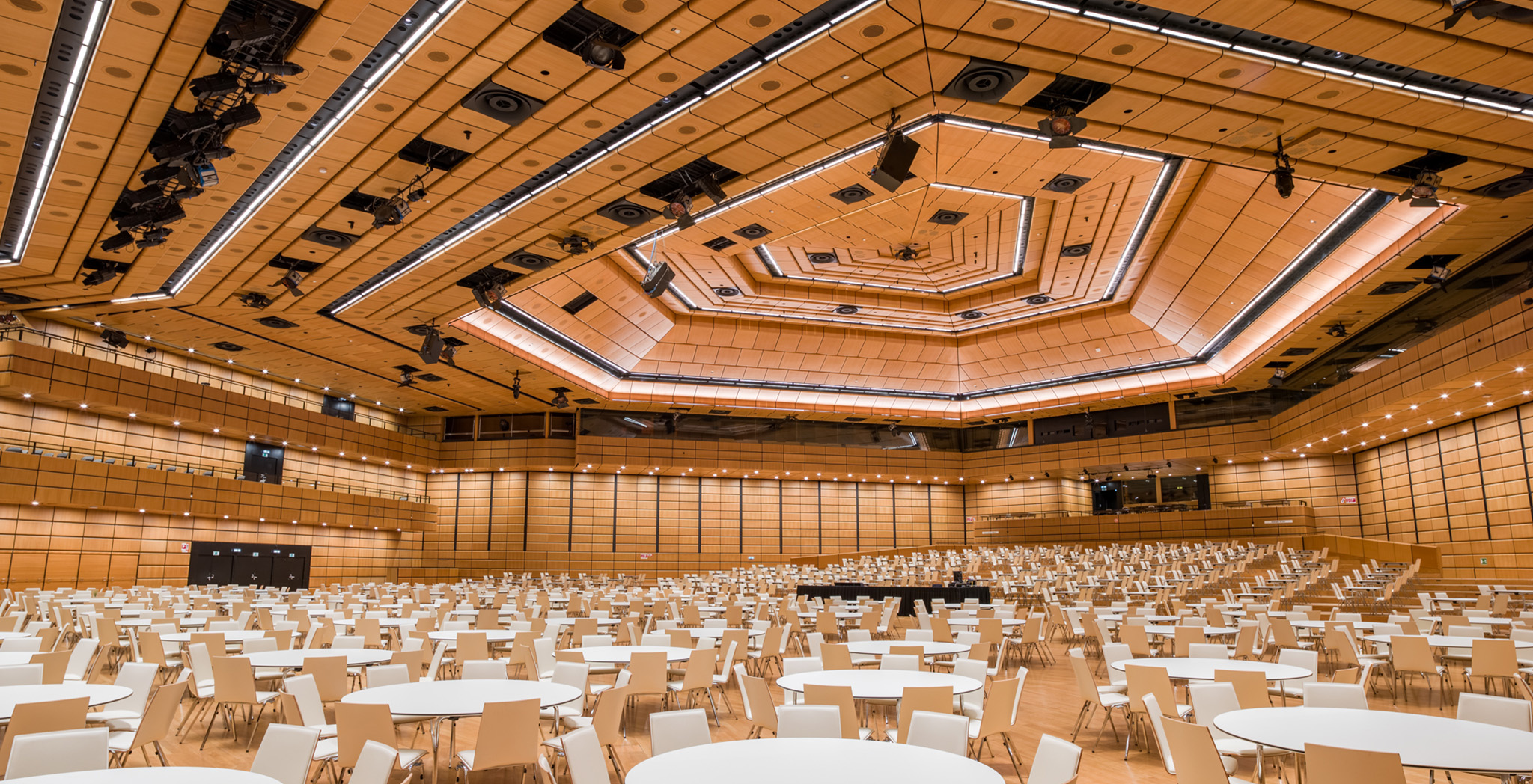 Austria Vienna Centre
Project Location: Vienna, Austria
IST's iDrive® White Knight 36 and Thor 36 centralised LED drivers have recently been included in a full Ethernet-based lighting refurbishment of several halls within the impressive Austria Center Vienna (ACV). Delivered by IST's partner in Austria, Leman GmbH has over 40 years' experience in delivery of technical services across a wide variety of settings globally, such as event, film and TV productions, as well as the design and implementation of architectural lighting.
The ACV is one of Europe's largest and most modern conference and exhibition centres and is used for international conferences, corporate events and concerts. Linked internally to the adjacent Vienna International Center, the campus forms part of the UNOCity, which is an imposing sit located on the north bank of the River Danube housing several international organizations, including one of the United Nations 4 Headquarters. About 5,000 people work at the site, which is constantly a veritable hub of international activity.
The ACV is vast, with ceiling heights of up to 15m, and thus requires a substantial number of luminaires to illuminate the space sufficiently. As such a high-profile international hub, the client wanted to lead from the front and only implement the most innovative technology, offering the very best in energy savings. Installing single channel LED drivers next to luminaires high in the ceilings proved to be a massive stumbling block at the planning stage, however, with the potential of generating significant costs for installation, commissioning, not to mention the potential operational headache for future maintenance and the associated spiralling costs. The client therefore sought an energy efficient lighting solution with impact, for which power could be supplied at a distance from the luminaires from a centralised location at ground floor level, in order to significantly simplify installation, commissioning and allow easy access for any future maintenance.
iDrive® centralised LED drivers were absolutely ideal for the refurbishment of this highly impressive international conference centre. With each individual centralised, rack-mounted LED driver capable of powering up to 36 luminaires from a single point, the drivers could be installed at ambient temperature in a designated ground floor location, without compromising on power supplied to each luminaire. Installing LED drivers at ground-level in ambient temperature not only serves to significantly prolong the lifetime of the LED drivers, but also vastly simplifies installation, commissioning and any future maintenance required for the project. In addition to its unique rack-mounted, centralised design, the iDrive® centralised LED driver range boasts the smoothest dimming on the market and provides totally flicker-free, healthy lighting, which is recognised as being of critical importance for the health and wellbeing of workers and people in their everyday environments