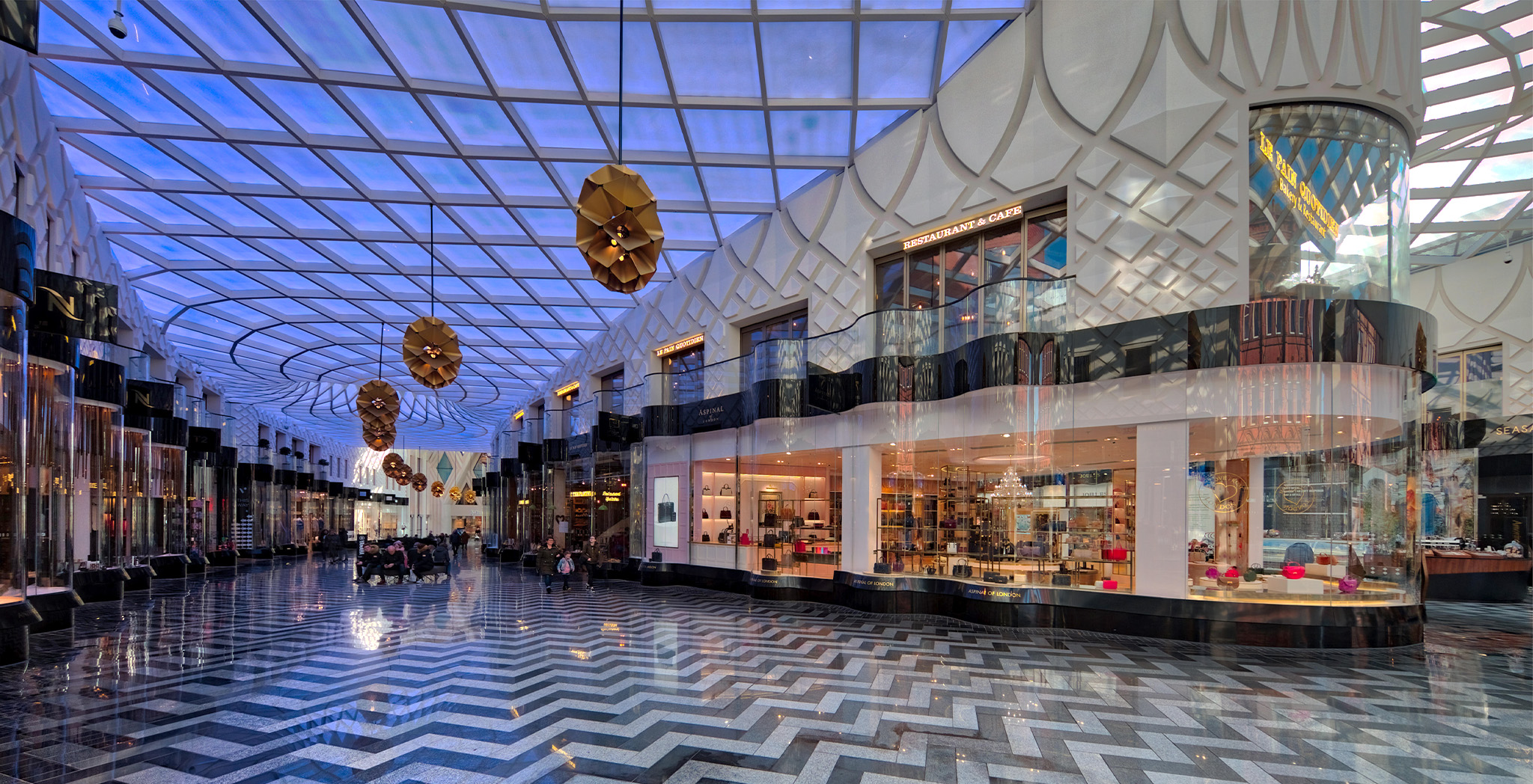 Victoria Gate Shopping Centre
Project Location: Leeds, United Kingdom
Architects ACME were commissioned by Hammerson to design the Victoria Gate Shopping Centre in the centre of Leeds, using a novel design in keeping with the style of old-fashioned Victorian arcades of the past, whilst incorporating a modern and vibrant feel. The shopping centre is anchored by John Lewis and has a dynamic, high-quality feel throughout.
The interior of the shopping centre has a roof of latticed steel and glass, designed to flood the space with natural light. However, there is a large area of the ceiling that has no access to natural light. In order to uphold the design concept, a "Ceiling of Light" was designed which required bespoke, dimmable luminaires to be fitted within the lattice steel sections.
The client had two major concerns about the installation. Not only did the ceiling design leave very limited working space behind the luminaires for installing the LED drivers, but the installation of the luminaires 20m above a marble floor posed a potentially hazardous and very costly headache for commissioning and any future maintenance of the fixtures and electronic control gear.
The "Ceiling of Light" effect would only work visually if all of the luminaires remained illuminated simultaneously. Any fault in the lighting would seriously compromise the design and the potential cost of hiring equipment to reach the ceiling out of normal hours post commissioning would be extortionate. This is when Tower Tech UK Ltd, the client's installation partner, sought advice from IST, on how best to install a remote, centralised LED driver solution to address the potential stumbling blocks facing the project.
Working with Tower Tech, IST provided support on determining the best location for the LED drivers, the type of LED drivers and the optimum number of drivers to control the "Ceiling of Light" efficiently.
The concept simplified the lighting scheme as the "Ceiling of Light" provides all of the lighting and no ancillary luminaires were required within the scheme. In order to meet the client's brief, the iDrive® Thor 36, 1U 2000W centralised LED drivers were considered the best option and over 22x iDrive® Thor 36 LED drivers were used on the project, providing approximately 40,000W of power to the "Ceiling of Light".
Each iDrive® Thor 36 was programmed to provide flicker-free dimming with up to 14-bit dimming to allow smooth step-less dimming of the luminaires meeting the client's requirement of being flicker-free. The overall impact is stunning and the client has an exceptional lighting scheme that is easy to maintain throughout the lifetime of the shopping centre, not just for the first year.